Events
Upcoming events from Advancing Justice | AAJC.
American Courage Awards 
Please save the date for our 2023 American Courage Awards celebration, which will take place in-person in Washington, DC at The National Press Club on Friday, October 6, 2023! Donate to support us in honoring the resilience of our community and sign up for our email communications to receive updates. 
Register for the event. 
View a list of our past awardees here.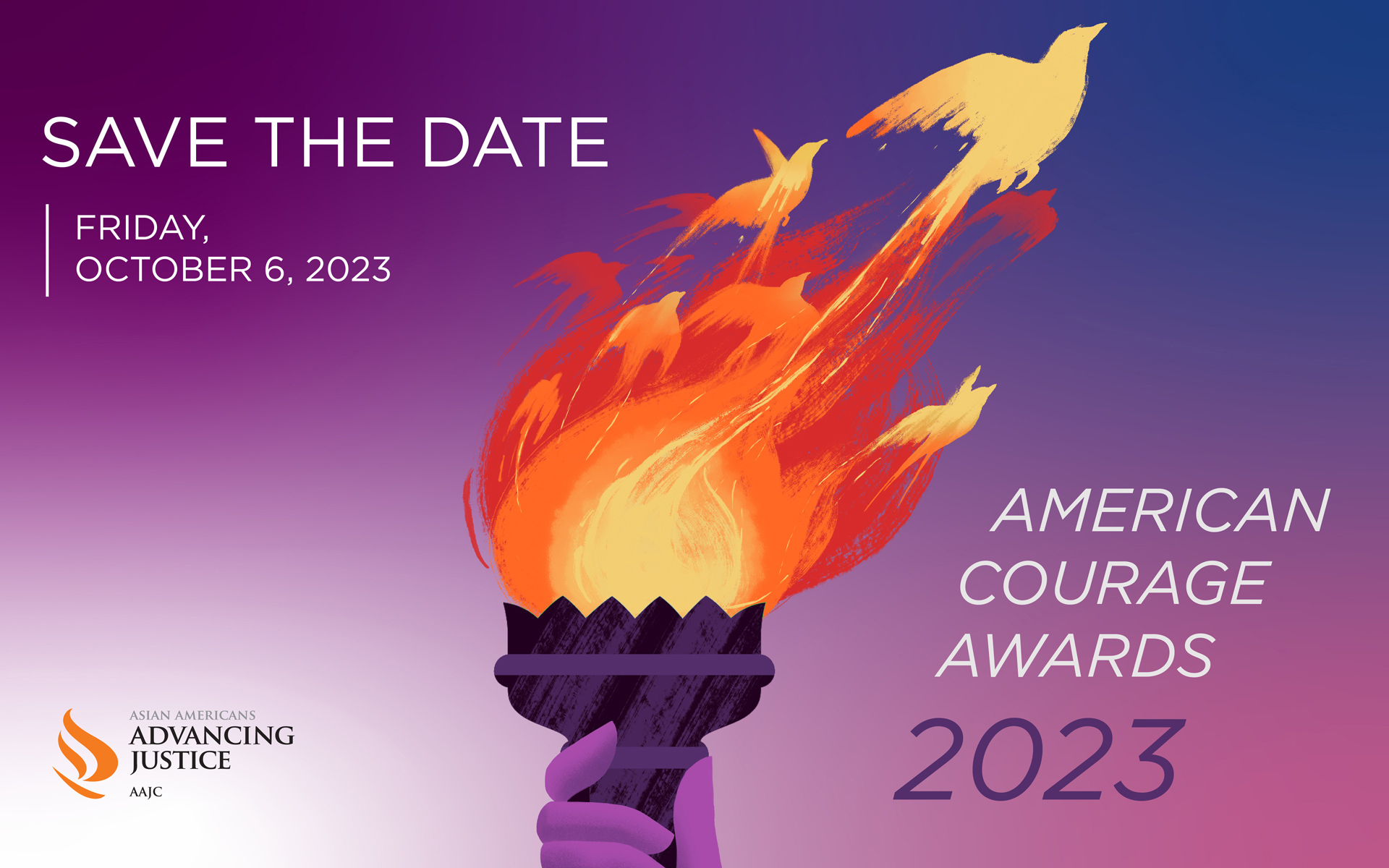 Our annual American Courage Awards showcases the individuals and corporations who have shown extraordinary commitment to civil rights. The description of the award categories are below:  
The American Courage Award goes to an individual, company, or organization that has shown extraordinary courage or commitment to the cause of civil rights. This may include a community leader who has taken an important stand, an activist who overcame extraordinary challenges, an artist with a unique vision, or a journalist breaking an important story. 
The Changemaker Award honors an individual, company, or organization who is a catalyst for change. This may include an entrepreneur, student, or activist whose leadership has inspired action that has led to change on a local or national level that benefits Asian American communities. 

The Bridge Builder Award recognizes an individual or corporation that has developed an innovative approach to successful community empowerment and strives to overcome obstacles for the Asian American community, as well as other minority communities. This may include programs for citizenship, voter participation, community education, or other community programs. 
 

The Norman Y. Mineta Spirit Award recognizes a youth advocate whose community-centered leadership has exemplified dedication, compassion, and resilience benefitting Asian Americans on a local or national level. The award was established in honor of the trailblazing legacy of former Secretary of Transportation, Norman Y. Mineta. 

The President's Award is a special honor given to individuals and organizations that have been longtime supporters of Advancing Justice | AAJC's mission to advance civil and human rights for Asian Americans and to build and promote a fair and equitable society for all. 
Please contact events@advancingjustice-aajc.org with any questions. 
Bystander Intervention Virtual Trainings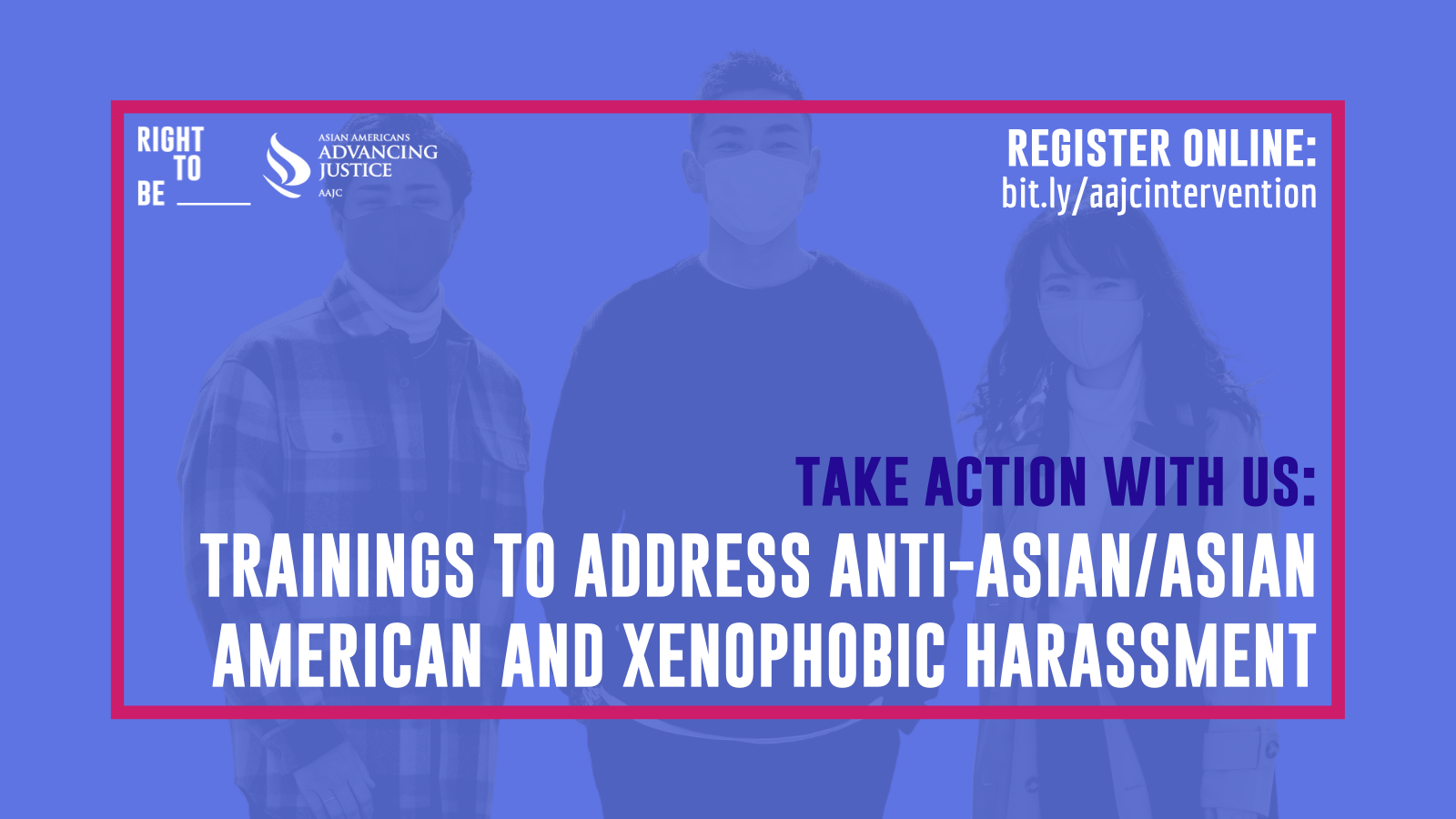 Anti-Asian and Asian American and xenophobic harassment are on the rise across the U.S. Unfortunately, anti-Asian and Asian American racism and xenophobia is not a new phenomenon. It has been part of our histories for a long time, and we have seen it manifested against different communities in many ways over the years. As the coronavirus pandemic escalates, we have seen more harassment, discrimination, and even violence directed at our communities.

One way we can take action to protect our communities is to learn ways to intervene effectively as a bystander without compromising safety. Since April 2020, Advancing Justice | AAJC has partnered with Right To Be (formerly Hollaback!) to provide free trainings to equip people with techniques on how to safely intervene when they see or experience anti-Asian harassment. Check out our Trainings to Address Anti-Asian/Asian American Harassment page to view the most up-to-date list of free public trainings in our three-part series.
Youth Leadership Summit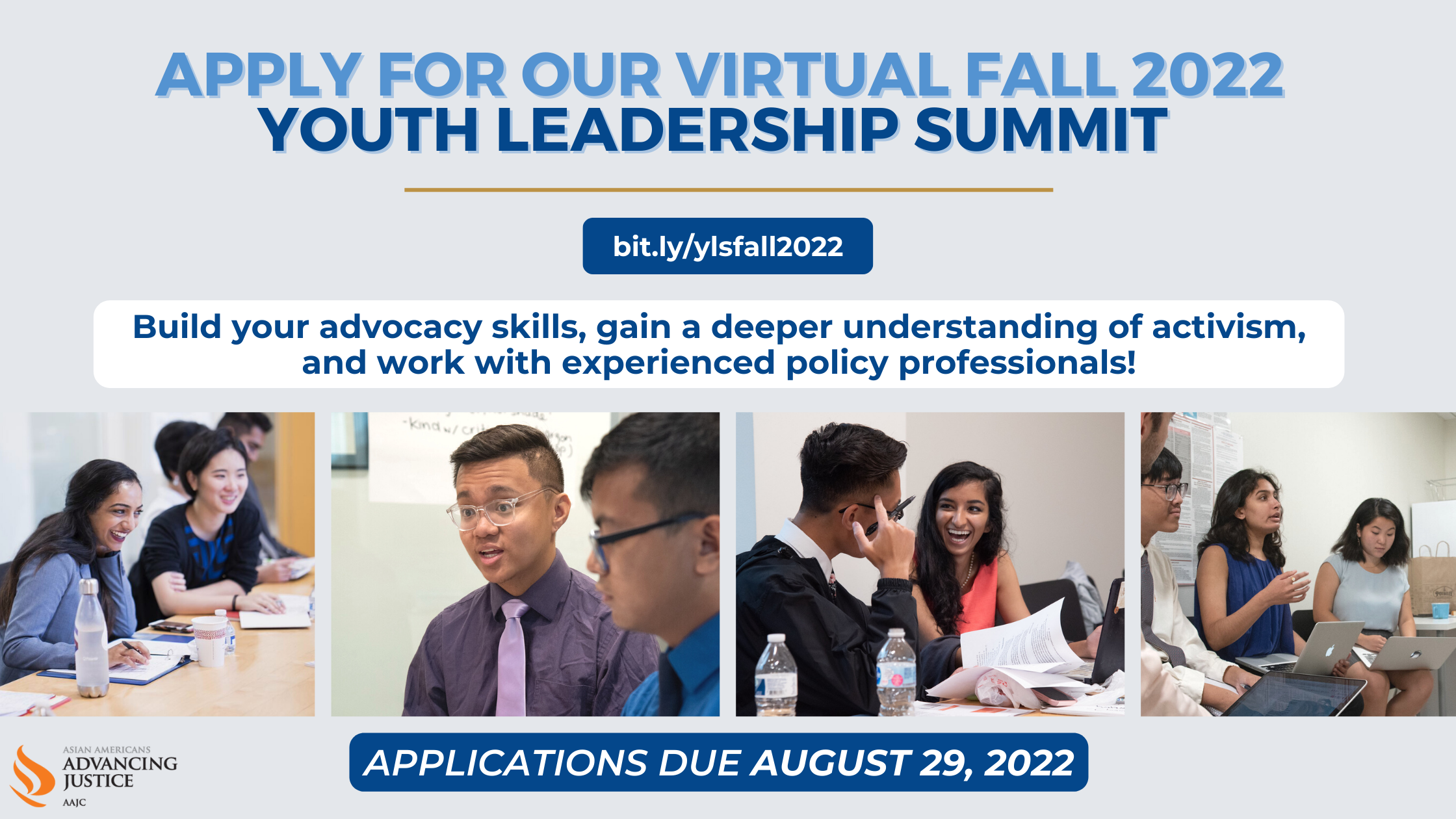 We are now accepting applications for the 2022 Fall Youth Leadership Summit! The deadline to submit your application is on August 29.
The Youth Leadership Summit is a weeklong leadership development program for high-achieving undergraduate college students from a variety of disciplines who are dedicated to addressing issues impacting Asian American and Pacific Islander communities. For the third year, the summit is taking place VIRTUALLY. Young advocates from across the country will have a unique opportunity to collaborate with peers, as well as learn from and network with national leaders.
The Fall 2022 Youth Leadership Summit will take place virtually on Monday, October 3 - Friday October 7 from 2-5pm ET / 11am-2pm PT / 1-4pm CT. Students that are offered and accept a slot with the YLS class must make arrangements to attend the entire summit. Each section of the summit is mandatory, no exceptions.
Learn more about the program and our past alumni projects on our YLS page.
Citizenship Workshops in D.C., Maryland, and Virginia
Get free legal help with your citizenship applications at our citizenship workshops. Find more information about the next workshop.
Past Events