Events
Upcoming events from Asian Americans Advancing Justice | AAJC.
Bystander Intervention Virtual Trainings
Anti-Asian and Asian American and xenophobic harassment are on the rise across the U.S. Unfortunately, anti-Asian and Asian American racism and xenophobia is not a new phenomenon. It has been part of our histories for a long time, and we have seen it manifested against different communities in many ways over the years. As the coronavirus pandemic escalates, we have seen more harassment, discrimination, and even violence directed at our communities. The Asian Americans Advancing Justice affiliation has been documenting hate crimes and hate incidents since 2017 through our website at StandAgainstHatred.org, which is available in English, Chinese, Korean, and Vietnamese. More resources are available on our new COVID-19 page.

One way we can take action to protect our communities is to learn ways to intervene effectively as a bystander without compromising safety. Since April 2020, we have partnered with Hollaback! for a virtual workshop on bystander intervention. The one-hour, interactive training will teach you Hollaback!'s 5 D's of bystander intervention methodology.
We'll start by talking about the types of disrespect that Asian and Asian American folks are facing right now -- from microaggressions to violence -- using a tool we call the "spectrum of disrespect."
You'll learn what to look for and the positive impact that bystander intervention has on individuals and communities.
We'll talk through five strategies for intervention: distract, delegate, document, delay, and direct; and how to prioritize your own safety while intervening.
We'll have time at the end for practice, and you'll leave feeling more confident intervening the next time you see Anti-Asian and Asian American harassment online or in-person.
We've had a tremendous demand for these trainings and are continuing to work to provide more opportunities for folks to attend and learn these tools. Please note you must register in advance for all trainings. They will be capped at 1,000 people.
TRAINING DATES AND TIMES:
This session offered in Cantonese and Mandarin (粵語/普通話)! Monday, January 31, 2022. 8:00PM ET/ 7:00PM CT/ 6:00PM MT/ 5:00PM PT/ 2:00PM HST. Register Here.
Tuesday, February 1, 2022. 12:00PM ET/ 11:00AM CT/ 10:00AM MT/ 9:00AM PT/ 6:00AM HST. Register Here.
This session offered in Korean (한국어)! Thursday, February 17, 2022. 8:00PM ET/ 7:00PM CT/ 6:00PM MT/ 5:00PM PT/ 2:00PM HST. Register Here.
After registering, you will receive a confirmation email containing information about joining the meeting. The training is currently only offered in English but we are seeking funding to expand it into other languages.
Bystander Intervention 2.0 - Conflict De-Escalation Workshop:
If you've already taken our Bystander Intervention training and you're looking to go deeper into how to directly intervene and de-escalate conflict: this training is for you. Conflict de-escalation requires patience, a willingness to listen, and an ability to see the humanity in everyone, even those we don't agree with or who seek to hurt us. Using Hollaback!'s Observe-Breathe-Connect methodology, we'll learn how to identify potential conflict before it escalates using our "pyramid of escalation" and how to assess whether intervening is the right action for you. We'll talk about specific biases that are increasing conflict, harassment, and violence during COVID19 — and the role of implicit and explicit bias in conflict. We'll also learn how to connect with others by validating and de-escalating their feelings — even if we don't understand them or agree with them.  We'll have time at the end to practice using real-life scenarios.
Training dates and times for Bystander Intervention 2.0: 
Wednesday, February 9, 2022. 2:00PM ET/ 1:00PM CT/ 12:00PM MT/ 11:00AM PT/ 8:00AM HST. Register Here.
How to Respond to Harassment for People Experiencing Anti-Asian/American Harassment Training Workshop
After attending our bystander intervention trainings, many Asian/Americans want to know — how do I take care of myself when I experience harassment? If that's a question you're asking — this training is for you.
During this one-hour, highly interactive training you'll learn Hollaback!'s methodology for responding to harassment: 1) Trust your Instincts, 2) Reclaim Your Space, and 3) Practice Resilience. You'll learn how your identities can shape your experience of harassment and the impact that harassment has on you and your community as a whole. We'll talk about what to look for when assessing your safety, and how to determine if responding in the moment is the right action or not. We'll also take a deep dive into how to build your resilience on an individual, interpersonal, organizational, community, and societal front. You'll leave with new tools on how to respond to harassment, whether your response is in the moment while that harassment is happening or long-term.
TRAINING DATES AND TIMES:
Tuesday, January 18, 2022. 4:00PM ET/ 3:00PM CT/ 2:00PM MT/ 1:00PM PT/ 10:00AM HST. Register Here.
Thursday, February 24, 2022. 5:00PM ET/ 4:00PM CT/ 3:00PM MT/ 2:00PM PT/ 11:00AM HST. Register Here.
Youth Leadership Summit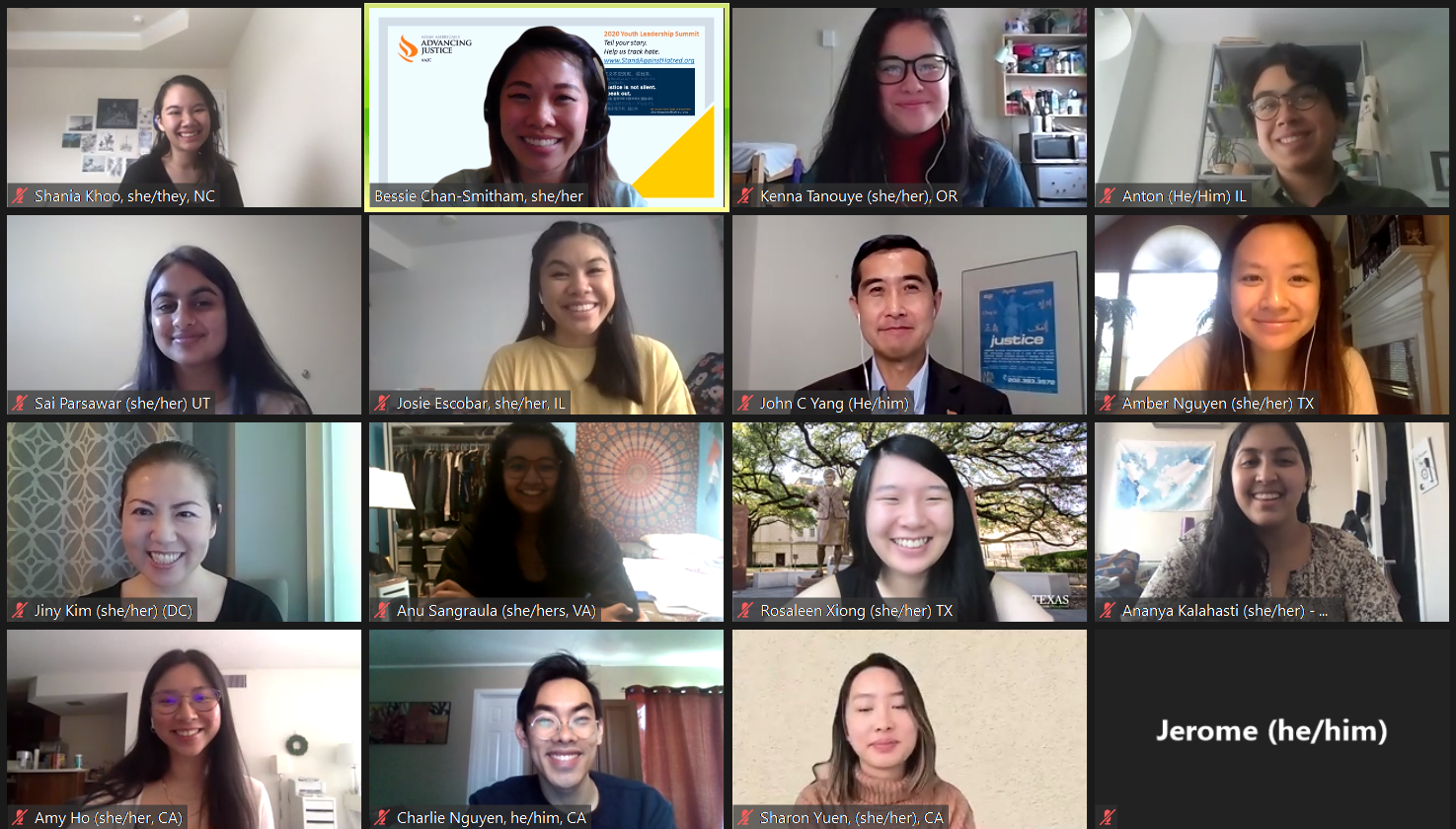 The 2020 Youth Leadership Summit cohort with Advancing Justice | AAJC staff. 
We are accepting applications for our Fall 2021 Youth Leadership Summit! The deadline to submit your application is on Friday, August 27, 2021. 
Our Youth Leadership Summit (YLS) is a multi-day leadership development program for high-achieving college students from a variety of disciplines who are dedicated to addressing issues impacting Asian American and Pacific Islander communities. 
The summit will take place VIRTUALLY this year. Young advocates from across the country will have a unique opportunity to collaborate with peers, as well as learn from and network with national leaders. Read about our 2020 YLS Summit and alumni projects. 
Our 9th annual YLS will be held from Monday October 18  - Friday October 22. All sessions will take place online to minimize risk to participants during the COVID-19 pandemic. 
Applicants will be notified of their status by the end of September 2021. Apply now! 
2021 American Courage Awards
Our 2021 American Courage Awards presentation will showcase the individuals and organizations who have shown extraordinary commitment to civil rights. The description of the award categories are below: 
The American Courage Award goes to an individual, company, or organization that has shown extraordinary courage or commitment to the cause of civil rights. This may include a community leader who has taken an important stand, an activist who overcame extraordinary challenges, an artist with a unique vision, or a journalist breaking an important story. 

The Changemaker Award honors an individual, company, or organization who is a catalyst for change. This may include an entrepreneur, student, or activist whose leadership has inspired action that has led to change on a local or national level that benefits Asian American communities. 
Thank you to everyone who submitted a nomination. Stay tuned!
Honorees will receive their awards at our 2021 American Courage Awards celebration. The date is to be announced. Please contact events@advancingjustice-aajc.org should you have any questions.
Citizenship Workshops in D.C., Maryland, and Virginia
Get free legal help with your citizenship applications at our citizenship workshops. Find more information about the next workshop.
88rising - ASIA RISING FOREVER Livestream Festival
 88rising hosted ASIA RISING FOREVER - a special livestream festival event on 88rising's YouTube & Twitter in celebration of Asian American and Pacific Islander Heritage Month! An antidote to global self-isolation, the festival is a celebration of Asian and Asian American music and togetherness, demonstrating unity due to the pandemic and the xenophobic hate many are experiencing.
Asian Americans Advancing Justice | AAJC thanks 88rising for supporting our mission and their tremendous support throughout Asian American and Pacific Islander Heritage Month.
Watch a recording: