Youth Leadership Summit
The deadline to submit your application for the Fall Youth Leadership Summit has been extended to September 2!
The Youth Leadership Summit is a weeklong leadership development program for high-achieving undergraduate college students from a variety of disciplines who are dedicated to addressing issues impacting Asian American and Pacific Islander communities. 
For the third year, the summit is taking place VIRTUALLY. Young advocates from across the country will have a unique opportunity to collaborate with peers, as well as learn from and network with national leaders.
The 2022 Fall Youth Leadership Summit will take place virtually on Monday, October 3 - Friday October 7 from 2-5pm ET / 11am-2pm PT / 1-4pm CT. Students that are offered and accept a slot with the YLS class must make arrangements to attend the entire summit. Each section of the summit is mandatory, no exceptions.
Empowering Tomorrow's Asian American and Pacific Islander Leaders 
Through interactive workshops, hands-on activities, and a virtual visit to Capitol Hill, participants will build advocacy skills while gaining a deeper understanding of how advocacy and activism affect policy decisions. Student leaders will work with experienced policy professionals and have opportunities to interact with the legislative staff of U.S. Senators and Representatives.
In addition, student leaders will have the opportunity to submit a proposal for a student-led advocacy project on their home campus or in their local community. If selected, Advancing Justice | AAJC will award student leaders stipends as well as provide technical support and guidance for their projects. 
Learn more about our 2021 Spring and Fall YLS cohorts. Read alumni articles and reflection blogs by Amber Nguyen, Aishwarya Sharma and Devin Tran.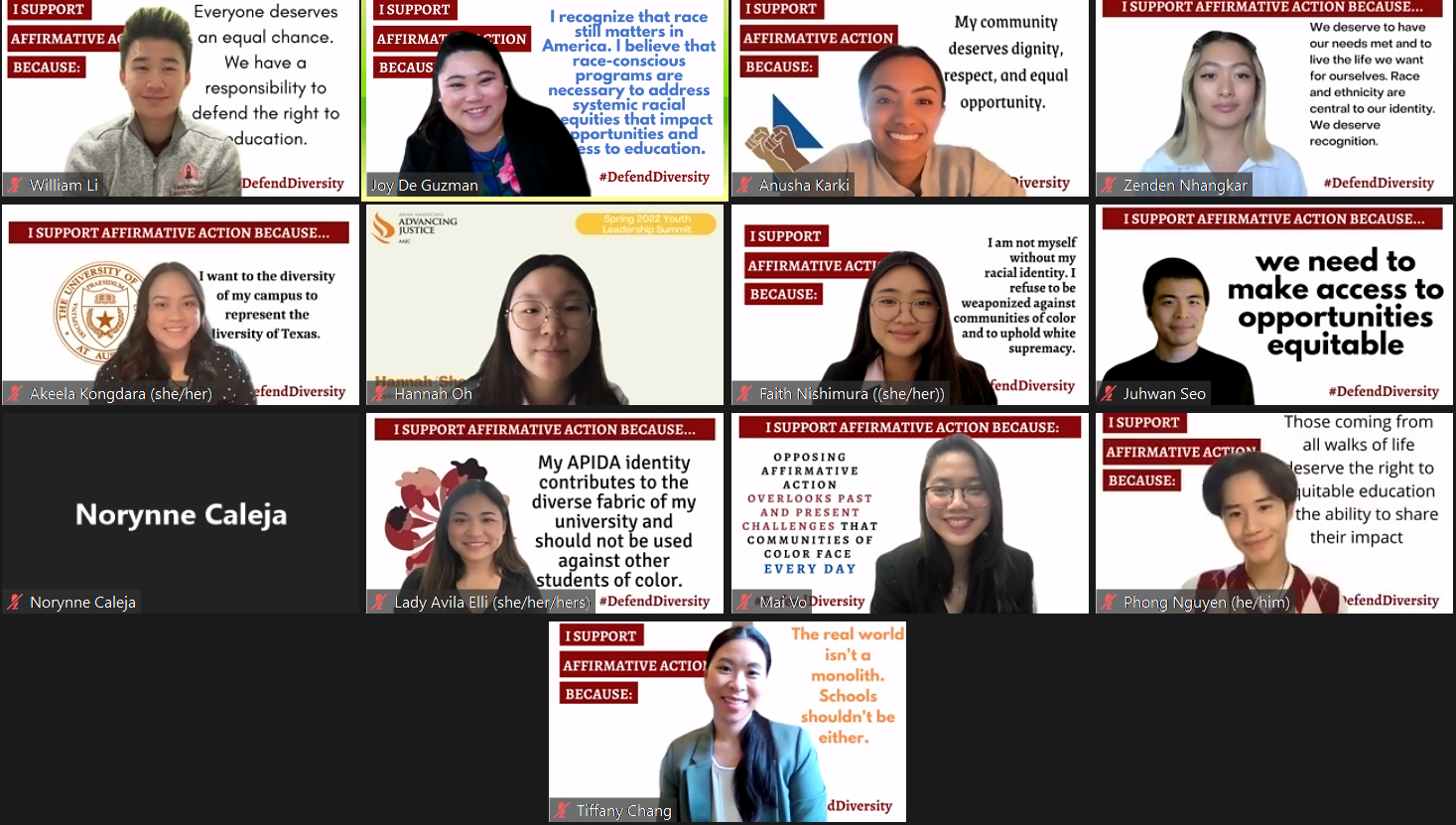 The Summit was such an eye-opening and inspiring experience that I am extremely grateful to have participated in. From attending and engaging in legislative meetings with senate offices to interactive workshops and presentations on AAJC's current projects, I developed a strong understanding of how having AAPI representation, strong alliances with BIPOC partners and political power is vital to make policy change positive and lasting. 

-Mika Chan, Seattle University

Being able to interface directly with staffers on the Hill for issues I cared about was incredibly rewarding and is an experience I'll take away for my future advocacy in the realm of health equity. Attending this year's Summit has been truly fulfilling during this life-changing pandemic: the skills and knowledge I've gained here will undoubtedly serve as the foundation for my future advocacy serving the Asian/American community and beyond.

-Nelson Lin, Brown University 
 
How To Apply
Applicants must be current students enrolled in a 2 or 4-year college/university, from any major or discipline. 

Especially encouraged to apply are students with leadership positions in AAPI campus/community-based organizations or organizations focusing on racial justice, civil rights, immigration, voting, anti-hate, technology, telecommunications, and media diversity.

Applicants should be active members in their community and demonstrate this in their essay and resume content. 

All Applicants must submit two references.

Finalists will be contacted for a short interview.

The Youth Leadership Summit is made possible through the generous support of State Farm and FedEx.