Asian-American voters prefer Biden to Trump, a new poll found.
Published in The New York Times on
Asian American Voter Survey 2020 article by Matt Stevens, The New York Times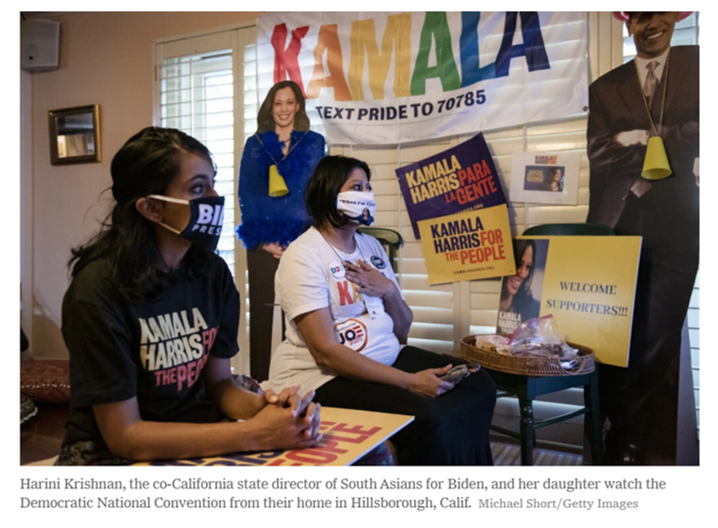 A new national survey of Asian-American voters released on Tuesday found that a majority of Asian-Americans were more enthusiastic about voting this fall than in past elections and that, as a group, they overwhelmingly supported Joseph R. Biden Jr. over President Trump.
The survey, known as the 2020 Asian American Voter Survey, found that 54 percent of respondents planned to vote for Mr. Biden, compared with only 30 percent who planned to vote for Mr. Trump and roughly 14 percent who were undecided.
Roughly 44 percent of those surveyed identified as Democrats, 23 percent as Republicans and about 31 percent as independents or another party.
Though they make up only about 5 percent of the nation's voters, Asian-Americans are the fasting growing racial group in the country, and experts say their influence is growing in presidential swing states like Nevada, North Carolina, Georgia and others. In addition, large concentrations of Asian-American voters in states like California and Texas could factor significantly into tight Congressional races there.
After Asian-American voters broke turnout records in the 2018 midterm elections, experts have, for months, been predicting that the 2020 general election could see even more of them going to the polls.
"Through this survey, we see that Asian-Americans are ready to exercise their power," said John C. Yang, the head of Asian Americans Advancing Justice – AAJC, an advocacy group that co-sponsored the survey.
The data released Tuesday was drawn from a survey of 1,569 Asian-American registered voters that was conducted from July 4 to Sept. 10.
Roughly 54 percent of the respondents said that they were more enthusiastic than usual about voting in the fall. Mr. Biden was favored among all Asian-American national origin groups surveyed except for Vietnamese-Americans, who preferred Mr. Trump to Mr. Biden, 48 percent to 36 percent.
Indian-Americans were the group most supportive of Mr. Biden, with two in three saying they planned to vote for the former vice president.
Majorities of the Asian-Americans surveyed also said they would support Democratic candidates over Republican ones in House and Senate races.